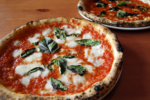 Join us at Pizzeria Libretto on Wednesday, March 22nd for our second meeting of 2017!
Here is a Map to the venue located @ 155 University Ave. (just north of St. Andrew subway station)
We will start gathering at 5:30 pm and the discussion of the article of choice will begin closer to 6:00 pm
Mellisha McKenzie will lead our discussion of:
An assessment of needed competencies to promote the data curation and management librarianship of health sciences and science and technology librarians in New England. Creamer, A., Morales, M. E., Crespo, J., Kafel, D., & Martin, E. R. Journal of eScience Librarianship. 2012; 1(1): 4.
All you have to do is read the article, form some opinions about it, and come for some great food, ready to talk!
Please RSVP here
To help you informally appraise the methods and findings of the study, we have put together a list of questions you can use (if you like) for most articles – with no math required! Just download and print this THLA Journal Club Assessment Sheet PDF
We look forward to seeing you there!