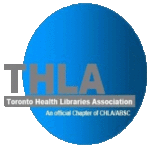 The Toronto Health Libraries Association (THLA) is looking for a new President-Elect and Secretary. Both of these positions are great opportunities for professional development, to meet fellow librarians and to help plan activities for the THLA membership. Come lend us your talents and be a leader in the health sciences library field.
Duties of the President-Elect:
"The President-Elect shall act in the absence of the President, assist the President in the performance of duties, act as Programme Coordinator and perform other duties as assigned by the Executive."
A three year commitment is expected for the position.
Duties of the Secretary:
"The Secretary shall keep a record in minutes of the proceedings of Association meetings and shall have custody of all books, records and papers of the Association, except such as shall be in the custody of other persons authorized to have possession by resolution of the Executive Committee."
The Secretary shall be elected for one term of two years, and may elect to serve for a second consecutive term of office.
You can nominate yourself or a colleague (written consent of the nominee is required) and include the names and contact information of two THLA members. Please send in your nominations by March 31, 2017. If you have any questions or would like to send in a nomination, please contact the Nominations and Elections Committee by emailing: president@thla.ca