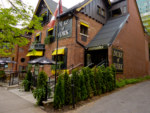 We are excited to announce that our third THLA summer patio social will be held on Thursday, August 25th, 2016!
Join us at The Duke of York located at 39 Prince Arthur Ave from 5:30pm
Members are FREE! (appetizers will be provided, just pay for the cost of your drinks)
The fee for non-members is $10 (payment can be made in person at the event)
Please RSVP by Friday, August 19th
We look forward to seeing you all there!