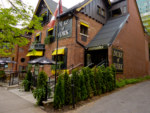 We are excited to announce that our THLA Fall Social will be held on Thursday, October 26th, 2017!
We will be meeting at The Duke of York, 39 Prince Arthur Ave, Toronto starting at 5:30 pm. The Duke is conveniently located just steps from the Bedford exit at St George station. Attendees at last year's social will be happy to hear that we'll have much more spacious seating this time!
Members are FREE! (Appetizers will be provided, just pay for the cost of your drinks) and the fee for non-members is $10 (payment can be made in person at the event)
Please RSVP by Tuesday, October 24th
We are looking forward to seeing you all there!