Come join us o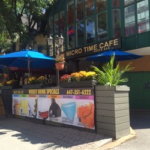 n Wednesday, June 1st, at Micro Time Cafe
Here is a Map to the venue located @ 25 Wellesley St. E. (Across from Wellesley station)
We will start gathering at 5:30 pm and the discussion of the article of choice will begin closer to 6:00 pm
We'll have four folks from Sunnybrook – Christina DeLonghi, Reena Besa, Ekaterina Petkova, Jane Sauder – lead our discussion of:
Is it cost-effective to purchase print books when the equivalent E-book is available? Li, J. Jour Hosp Lib. 2016; 16(1): 40-48.
All you have to do is read the article, form some opinions about it, and come for some great food, ready to talk!
Please RSVP
To help you informally appraise the methods and findings of the study, we have put together a list of questions you can use (if you like) for most articles – with no math required! Just download and print this THLA Journal Club Assessment Sheet PDF.
We look forward to seeing you there!
Did you know?  
You can receive accredited CE hours for attending our Journal Club!  Here's how it works:
Become a member of THLA for 2016 (or renew your membership in THLA for 2016)
Attend one or more THLA Journal Club meetings, held every other month, and sign in
At the end of the year, fill in the evaluation form you will receive via email
Your official CE hours certificate will arrive in your email!